Dino Days Sample Projects Part Two
Dino Days Sample Projects Part Two is the final post of a series of four to showcase the Dinoroar Suite from the 2019-2020 Stampin' Up! Annual Catalog. You can see the first post that introduced the suite of products here. Click here to see ideas for a dinosaur-themed project in the second post. And you can see the first four of eight samples from the catalog, along with supply lists by clicking here.
Let me start by reminding you that these dinosaur projects are absolutely adorable. At first glance, I thought "cute for kids", and then I moved on. But, I have to tell you that I have become attached to these items, and I am not ready to release them!  I want to plan a party, use them for home decor, decorate gifts with them, and make a few cards with the cute sentiments. But first, let's learn more about these cute-as-can-be products..
The suite of coordinating products can be purchased with a single item number, which makes it easy to ensure you have the coordinating items for (nearly) endless crafting. The main elements of the suite are the Dino Days stamp set and the Dino Dies; they are both used in all of the projects in this post. If you purchase the suite, you receive 10% of the stamp set and dies. Or, you can buy the stamp set and dies as a bundle and receive 10% off.  The individual pieces are listed below with each coordinating project. A little confusing – please contact me with questions.
The two images below link to the Dinoroar Suite and the Dino Days Bundle. Click on the items for more information or to purchase in my online store.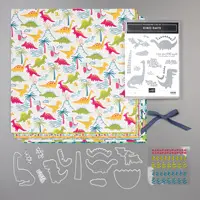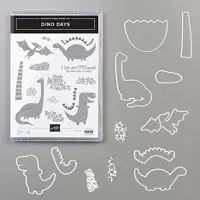 So, let's get to the samples.  Below are pictures of the finished projects, followed by supply lists. You can click on each image to learn more about, or purchase the item in my online store. You can also download or print the clickable supply lists.
Dino Days Hatched
The card looks very dinosaurish with the vegetation in the background and the cute hatching of the baby dino. It is a cute as a card, and would also make cute gift wrapping, or decoration for lunch or treat bags. They used Lovely Lipstick and Pretty Peacock Stampin' Write Markers, which are in two separate packages of five. I often use Blender Pens and dip them in the stamp pad instead of using markers.
Dino Days Thanks for Being a Friend-a-Saurus
This cute card makes good use of several of the stamps in the Dino Days set, and the colors are perfect for these friendly dinos. You could frame this for a child's room. Use Shimmery White paper for the background, and blend/mute the blue sky with an Aqua Painter. The shimmery paper does not pill and get warpy weird (technical term!) with moisture like regular cardstock sometimes does. Use a sponge or a sponge dauber with Crumb Cake ink on the designer series paper to give it a dirt look, like the ground.
Dino Days You're Rawrsome
Who wouldn't like to receive a card like this? It is great for people of all ages and all shapes and sizes. Use the egg shell die to create the oval opening for a little scenery and some extra dimension.
Dino Days Thank You
This cute Thank You card is quick and simple to make. Add extra dimension with lemon thread, and use the Pretty Peacock marker to highlight the sentiment. You can also use the marker to add color to the linen thread. A blender pen dipped in ink can be used instead of a marker.
Thank you for visiting my site. This completes the Stampin' Up! samples for this suite of products. I hope you have enjoyed seeing them as much as I have. Please subscribe to receive my blog posts and my newsletter via email.
Stamping regards,
Linda K, The Stamp Coach