The Dinoroar Suite from the 2019-2020 Stampin' Up! Annual Catalog is one of the cutest animal and children's sets EVER! It is versatile – there are a million projects you can make, and kids and adults of all ages will love these products. Stampin' Up! has introduced a lot of samples made with products from this suite, some of which you can see in the pictures below, and on page #98 of the annual catalog.
Today I am introducing the Dinoroar products, and I will share specific projects and party ideas in subsequent posts.
The products in this suite are suitable for crafting with your children and grandchildren. Switch out the colors to meet your needs and their tastes. You can plan a kids camp with the Dinoroar Suite and get everyone involved while spending a fun day creating projects together. Theme parties are always fun, and what could be more thrilling than dinosaurs?
The stamp set from this suite is called Dino Days, a photopolymer set with dinosaurs and cute sentiments. It is the perfect set for a first stamping experience with children or for a beginner stamper. The Dino Days stamp set coordinates with the Dino Dies and is part of the Dinoroar Suite. You can make projects that use the stamp set without the dies, or that require minimal use of the dies. You can add other items for color, coordination, and detail. Your projects and your stamping event will be dino-mite!
You can purchase the entire Dinoroar Suite with a single product number, #152194 to recreate the projects in the above picture, plus more. The suite includes the Dino Days stamp set and the Dino Dies at 10% off, plus the Dinoroar Designer Series Paper, Denim Ribbon, and Dinoroar Enamel Shapes. Click on the image below to learn more about the suite or to purchase it in my online store.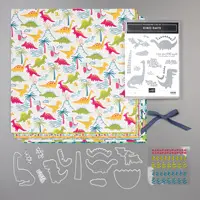 Another option is to purchase the Dino Days stamp set and Dino Dies as a bundle and receive 10%. Click on the image below to learn more or to purchase the bundle in my online store.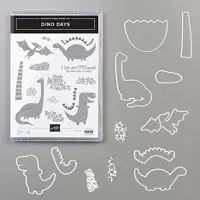 Here are the individual Stampin' Up! items in this suite. Click on each image to learn more or to purchase in my online store.
I hope you enjoyed viewing this post and learning about the products from the Dinoroar Suite. Check back for more information on these products, along with project samples and ideas for themed events. In the meantime, please subscribe to receive my blog posts and my customer newsletter via email.
Stamping regards,
Linda K, The Stamp Coach